ALBUM OF THE DAY
Anteloper, "Pink Dolphins"
By Michael J. West · June 17, 2022
​
​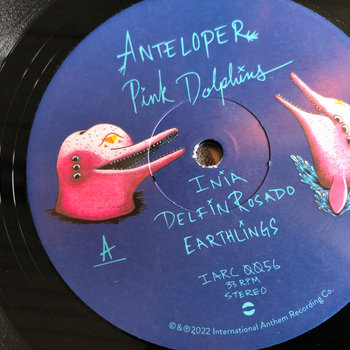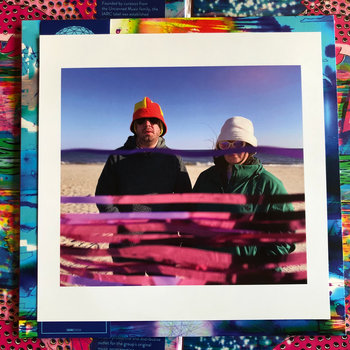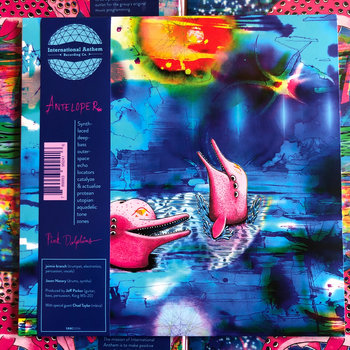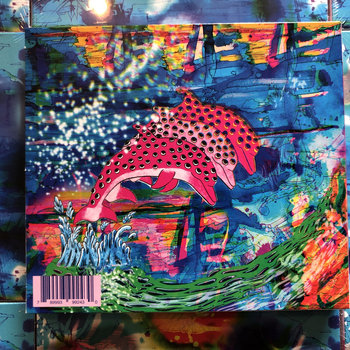 .
00:10 / 00:58
Merch for this release:
Vinyl LP, Compact Disc (CD), Poster/Print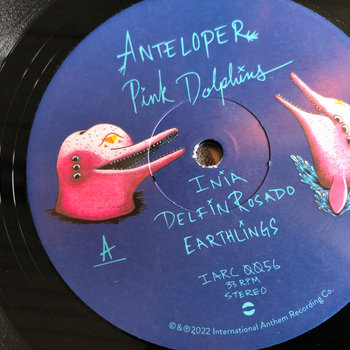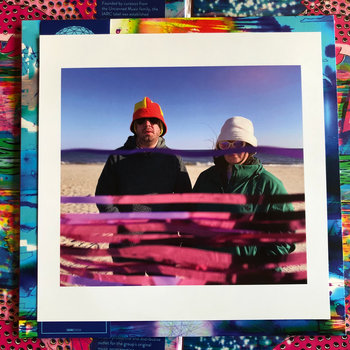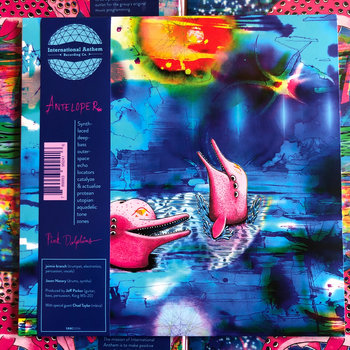 "We're both coming out of punk!" says jaimie branch of herself and Jason Nazary, the duo known as Anteloper, in the album notes to Pink Dolphins. It's not a statement that one generally associates with a free jazz trumpeter and a drummer/electronics wizard, but it's impossible to miss the punk spirit on the duo's third album. Even its most heavily produced moments capture a sense of rawness.
The energy is even more unexpected given the surface aspects of the album. The album's title, its psychedelic-cartoon cover (by branch), and its track titles—all related to an alternate, aquatically based perspective of the world—suggest something precious.
The actual music couldn't be further from that. Take, for example, its shortest track, the three-and-a-half minute "Baby Bota Halloceanation." The horn, drums, and producer/guest musician Jeff Parker's bass and keyboards all drip with weird reverb. Instead of softening the impact, however, the effects heighten the aggression. The result is something like a rock guitar on maximum volume and overdrive. branch's trumpet is harder, denser, more directly in your face, Nazary's angry cymbals seem to grow razor-sharp edges, while Parker's contributions remain subtle and unobtrusive, and in the process create an underlying sense of menace. If there's something psychedelic afoot (and there is), it's not so much the candy-colored utopia of the Grateful Dead as the dark labyrinths of Miles Davis's early fusion era.
That's not an accidental comparison. Both branch and Nazary consider electric Miles to be a touchstone in their music, along with contemporary electronica and hip-hop. (The instrumental second half of "Earthlings" would work perfectly as the background of a rap track.) Nobody would have called Miles "punk" either, but his casual flipping of the bird to convention and his willingness to alienate his most devout disciples make the comparison hard to avoid. Anteloper channels his vibe in other respects, too—like his use of African music elements, which manifest here in percussionist Chad Taylor's mbira playing on "Delfin Rosado." Its wind-chime-like timbre has a softer feel than anything else on Pink Dolphins; still, something about its relentless repetitions in Taylor's hands makes it feel as defiant and forthright as everything surrounding it.
It'd be a mistake, though, to pin Pink Dolphins too close to Miles's fusion records. They're a reference point; the trudging yet pulsating, ambient yet abrasive "One Living Genus" is a sound that no one but Anteloper could make. Nor is it correct that there's no semblance of refinement in their playing. In particular, branch's singing (which she introduced on her 2019 album Fly or Die II: Bird Dogs of Paradise) shows some new polish and control when she plies it on "Earthling." Perhaps the takeaway is that growing as an artist need not mean mellowing.