ALBUM OF THE DAY
Amaru Tribe, "Between Two Worlds / Entre Dos Mundos"
By Rebecca Bodenheimer · March 22, 2022
​
​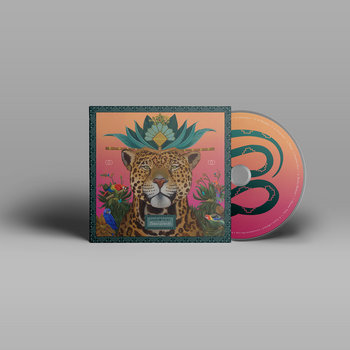 .
00:10 / 00:58
Merch for this release:
Vinyl LP, Compact Disc (CD)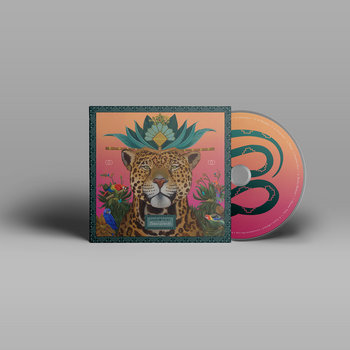 Amaru Tribe's new album Between Two Worlds / Entre Dos Mundos is likely an allusion to the Melbourne-based trio's hybrid identities: Oscar Jimenez and Katherine Gailer were born in Colombia and Cristian Saavedra hails from Chile. Both the name of the group—amaru is a highly revered, mythical two-headed serpent in Incan mythology—and its iconography reference indigenous culture, though the sounds are also thoroughly modern. Identifying as a "folktronic act," they've been known to call their music "cumbia oceanica," and judging from their music, which is often danceable but also quite spacious, it's a pretty apt descriptor.
The first track, "La Tormenta" ("The Storm"), opens with a fully ambient, synth-heavy vibe, punctuated by a West African timeline rhythm around the one-minute mark. As flourishes of Andean pan flute co-mingle with Aborginial didgeridoos, the indigenous music traditions of South America and Australia find common ground. The album then moves into more danceable tracks that include sung vocals in Spanish and English. Lead vocalist Gailer alternates between singing and rapping on "Se Prendió," a song that switches up its musical texture a few times. At around the 1:30 mark, a new section begins marked by a guitar riff and call-and-response chorus, and less than a minute later we hear rapped vocals with stripped-down percussion accompaniment. The last third of the song returns to the choral riff, accompanied by pan flute.
Unsurprisingly, several of the songs, such as "La Serpiente" ("The Snake") and "Déjame Volar" ("Let Me Fly") draw heavily upon Colombia's most exported and beloved genre, cumbia. There's a constant alternation between English and Spanish on the album, as well as between sung and rapped lyrics, exemplified by songs like "Candela Viva," featuring a less syncopated, four-on-the-floor beat. The slow "Canto a Bachué" has a more ethereal quality, using synth chords and a rhythmic ostinato to pay homage to the indigenous goddess Bachué, considered the "mother of humanity" by the Muisca people of Colombia. Elsewhere, "Bonita Mañana" ("Beautiful Morning"), a slow, reggaetón-inspired love song—complete with a hint of AutoTune vocals in the last section—that utilizes flamenco hand claps alongside lyrical guitar accompaniment. 
Beyond these influences from indigenous and Afro-Colombian genres, Amaru Tribe nods to Asian sounds as well. "Párate" ("Stand Up") utilizes a bhangra beat, while "Déjame Volar" features a Thai band, Junlaholaan; in yet another extension of the album's global vision, the latter song blends lyrics in Thai, Spanish, and English.
Entre Dos Mundos is an excellent addition to the thriving experimental electronic genre that has blossomed in Latin America in recent years. Given that Latin music, and particularly cumbia, has been popular in Australia for decades, Amaru Tribe's cumbia-infused folktronica is just the latest evolution in a long history of musical hybridity on the continent.