ALBUM OF THE DAY
Amami, "Soleil"
By John Morrison · August 17, 2021
​
​
Merch for this release:
Vinyl LP, Compact Disc (CD)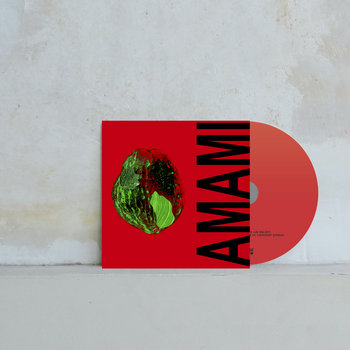 Amami, the Swiss trio made up of Raphaël Anker, vocalist Gabriel Ghebrezghi (who sings in both English and Tigrinya, a language spoken in Eritrea) and Inès Mouzoune on bass and keys, make music that defies easy classification. With their deft melding of upbeat rhythms and trippy audio effects, Amami's latest album Soleil is a colorful meeting ground for trippy electronics, dance music, reggae, and East African sounds.
The album opens with "Highway Dehli", a head-nodding cut reminiscent of the Casio-driven digital groove that reggae great Prince Jammy pioneered in the early '80s. Withheavy digital bass combined with a winding East African melody and echo-drenched vocals, the song has a potent and novel aesthetic.
The title track "Soleil" takes the intensity of "Highway Dehli" and dials it all the way up. With its uptempo four-on-the floor beat and rubbery bass, "Soleil" builds and builds into a furious climax complete with laser-like synths and a wailing vocal. "Atlas" pushes the tempo even further. The song's main synth riff soars against the driving beat, conjuring the celebratory feel of East African pop music. Sonically, Soleil is as adventurous and inventive as any "experimental" music you're likely to hear. By augmenting their chaotic approach to sound design with the melodic and rhythmic sensibilities of the African diaspora, Amami has created an entirely unique, contemporary global music.