ALBUM OF THE DAY
Altın Gün, "A​ş​k"
By Joshua Minsoo Kim · March 31, 2023
​
​
Merch for this release:
Vinyl LP, Compact Disc (CD)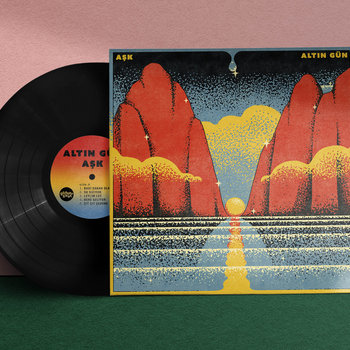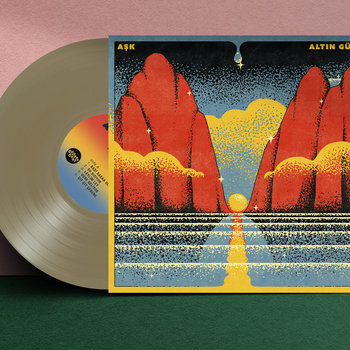 Altın Gün are always ready for reinvention. The Turkish rock band's career has centered around livewire versions of traditional songs from their home country, and they're deeply attuned to how art steeped in history can move towards a bold future. "Badi Sabah Olmadan," the opener to their fifth album A​ş​k, telegraphs as much: searing guitar melodies wind around crashing cymbals and a driving bassline, as if they're going on a long, treacherous journey into the unknown. They released a version of the track on their 2021 benefit album Âlem, but they've swapped out the electronic beat for a real drum kit here. In this way, A​ş​k is a return to form for Altin Gün, straying from the 80s synthpop and electronic sheen that defined the band's past couple LPs and committing to bracing psych rock.
Paramount to Altın Gün's success is how every instrument is in perfect lockstep. On "Çıt Çıt Çedene," an agile bassline dances around flitting synth melodies and strummed guitars before Erdinç Ecevit arrives to offer contemplative, wistful vocals. Soft, shaken percussion mirrors the way he sings the titular line; it's simple, charming, and playful. On other songs, the band lets their instruments flesh out lyrical themes. "Rakıya Su Katamam," for example, is a sweaty and celebratory track, replete with Merve Daşdemir's triumphantly singing about falling in love and dancing. The song heats up in the instrumental bridge when slick grooves and an increasing tempo provide the fiery atmosphere needed to embody impassioned cries to "find our joy."
While numerous Turkish artists throughout the past decade, from Gaye Su Akyol to Derya Yıldırım to Lalalar, have been building on their country's rich history of rock music, it is Altın Gün who best captures its golden age. A song like "Kalk Gidelim" channels the same hypnotic slowburn of Erkin Koray's most kaleidoscopic works, while "Güzelliğin On Para Etmez" has synths that harken back to Barış Manço at his most spaced-out. It is amusing to hear an album from 2023 that recalls a 1975 Turkish rock classic called 2023, but it's appropriate that Altın Gün is the one to conjure that. On A​ş​k, the arrangements are slicker than ever, their vocals are more varied than their forebears, and both the saz and guitar playing are as spirited as anything in Anatolian rock's history. They're not just carrying the torch, they're leading the way.