ALBUM OF THE DAY
Album of the Week: Zubatto Syndicate
By Andrew Dubber · December 12, 2011
​
​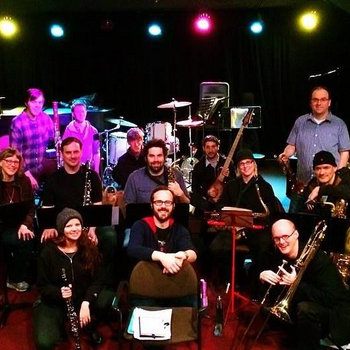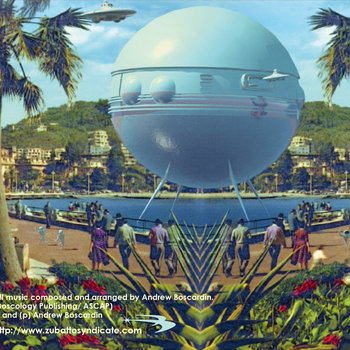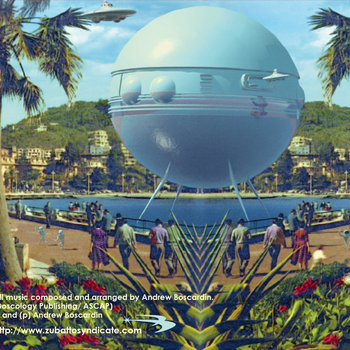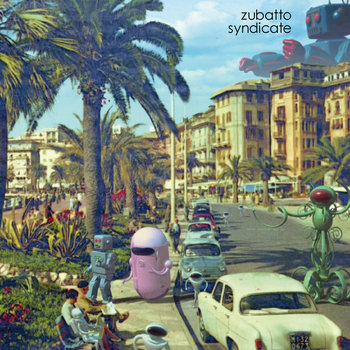 .
00:10 / 00:58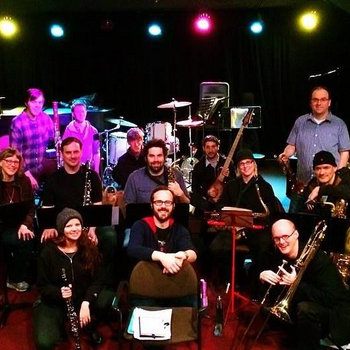 Merch for this release:
Compact Disc (CD), Vinyl LP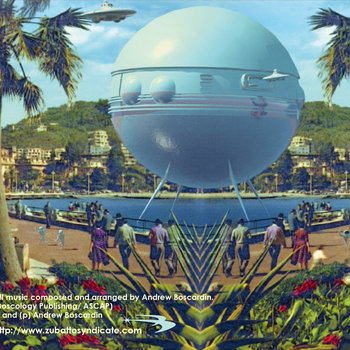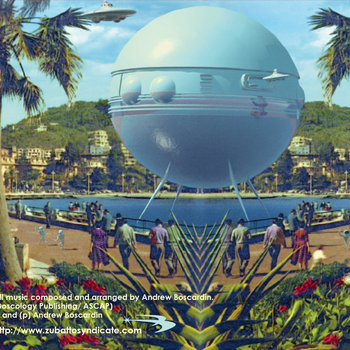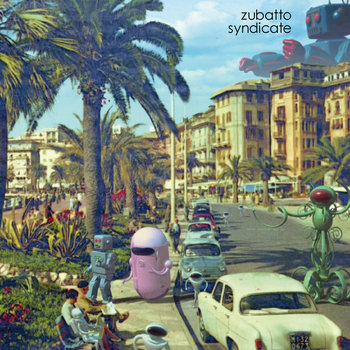 With a stylish, fold-out image by science-fiction artist Franco Brambilla on the album cover, we are introduced to the world of Zubatto Syndicate – at once quaint, modern, post-modern, and otherworldly. Pastel-toned robots from the future have arrived in 1961, and they are ready to hang out by the lake.
The retro-futurist aesthetic of the cover reflects the music's subject matter. The songs all feature references to other worlds, time travel, robots and alien visitors, though as a purely instrumental record, the kitsch-cool is performed rather than expressly stated.
Led by Seattle guitarist Andrew Boscardin, Zubatto Syndicate processes the last 50 years of popular music through the seemingly anachronistic medium of a brass & woodwind-heavy 12-piece jazz orchestra. Hip hop, funk, soul, metal, bossa and rock all find their way into the Zubatto palette, but the output is orchestral and electronic, cinematic and swinging.
Bass clarinet and bassoon sit alongside electric piano and rock guitar, and together they ride along over funk baselines and hip hop beats. Saxophone and trumpet solos stretch over samba rhythms and metal riffs alike. Everyone here is an improvising soloist, and each is given space to stretch out. The arrangements are intricate and ambitious, without overshadowing the strong compositions at the heart of this record.
Perhaps the most appealing aspect of Zubatto Syndicate is the way in which these seeming collisions of style are made to work – and even seem effortless and natural.
"The Green Boy from Hurrah" is a rock workout in seven with timbales and snare rolls – but rapidly morphs into an off-kilter drum and bass Pathé News travelogue soundtrack. "The Trouble With Earth Women" would not be out of place in a film noir setting at the moment of the arrival of the femme fatale, but only if the film in question was made in the 21st century. "Saturn 9" features a laid-back bossa groove with a Cosby kids bassline. In "Arrival," Wayne Shorter appears to do battle with King Crimson.
But for all that eccentricity and diversity, Zubatto Syndicate has a consistent and coherent identity of its own throughout. Boscardin is a strong leader and overlays a singular vision, but never attempts to dominate. In fact, at times he is entirely absent, preferring instead to let the other players take centre stage. This is an ensemble piece, not a guitar player and his group of supporting musicians.
Zubatto Syndicate is an utterly contemporary jazz big band – which is happily not as much a contradiction in terms as it might first appear. In fact, they're so modern – they might as well be from the future.
Listen to the full album and explore more from Zubatto Syndicate.