ALBUM OF THE DAY
Album of the Day: Zig Zags, "Ripping Death" b/w "Riddle of Steel"
By Jeff Terich · February 09, 2017
​
​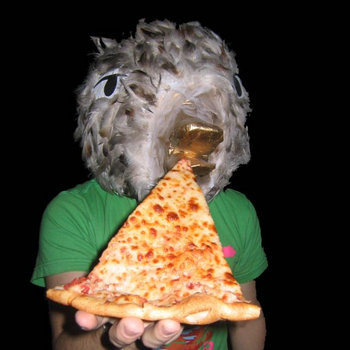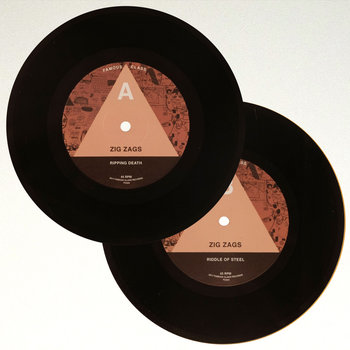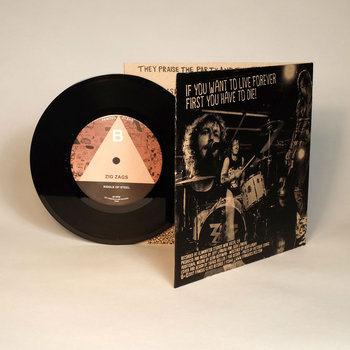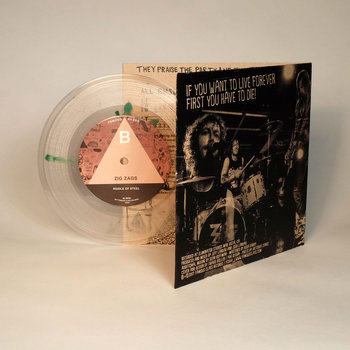 .
00:10 / 00:58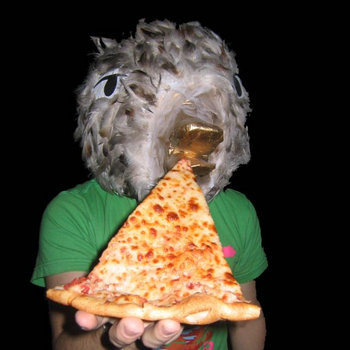 Merch for this release:
Vinyl LP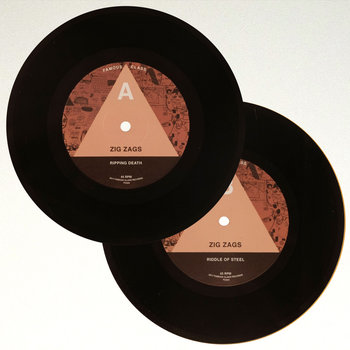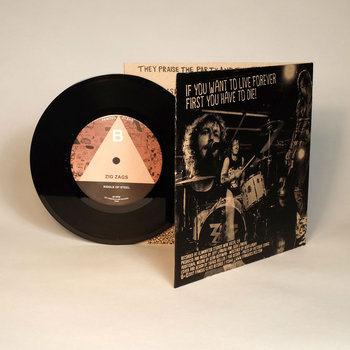 Though Zig Zags hail from present-day Los Angeles, their sound is often an uncanny ringer for speed metal demos from the Bay Area circa 1983 by the likes of Exodus or Testament. The jagged-edged high-school notebook font of their logo isn't the only thing the band borrows from Metallica's Kill 'Em All; they've learned all the right lessons about playing as loud, as fast, and as recklessly as possible.
Entries into their badass catalogue have been distributed via contemporary West Coast labels such as Thee Oh Sees frontman John Dwyer's Castle Face and Orange County garage-pop powerhouse Burger Records. The band's latest release is a two-song seven-inch on Famous Class, a Brooklyn label that has some notable singles by the likes of Ty Segall, Speedy Ortiz and Parquet Courts under its belt. Zig Zags' four-horsemen-of-the-Apocalypse gallop on new 7-inch single "Ripping Death"/"Riddle of Steel" is an impressive double-sider of searing thrash. No matter how ambitious they get with their pull-offs and hammer-on riffs, there's no escaping the truth that Zig Zags are a punk band at heart.
The single's A-side, "Ripping Death," lives up to its B-grade VHS horror nomenclature. It's straightforward and furious, and for all of its pomp and fiery fretwork showmanship, it could pass for vintage L.A. punk such as Black Flag or Fear with just a moderate shift in drum beats. The real treat of the pairing is the B-Side, "Riddle of Steel," named for the central motif in Conan the Barbarian. Metal and fantasy have always been natural pairings, and while the camp factor here hits the ceiling, Zig Zags' songwriting here is at its most rhythmically driving and heroically melodic, showcasing the breadth of their dynamics via a blend of acoustic and electric instruments, changes in tempo and a keep-on-fighting motivational speech via Jed Maheu's lyrics: "What doesn't kill us makes us stronger!" In a way, the band's mastery of their sound is like the riddle of steel itself: The true strength is in the hand that wields it.
—Jeff Terich