ALBUM OF THE DAY
Album of the Day: MNDSGN, "Body Wash"
By Marcus K. Dowling · September 20, 2016
​
​
Merch for this release:
2 x Vinyl LP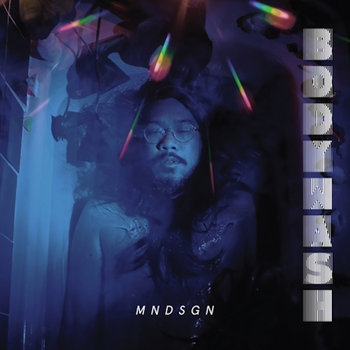 If Ringgo Ancheta had a superpower, it would most likely be the ability to transform himself into musical vibrations. Recording under the name MNDSGN (pronounced "mind design"), his personality seems to disappear completely into his music, drifting through space on some distant astral plane. So the concept behind Ancheta's new album, Body Wash, comes as little surprise: It's about a homeless man who meets a mysterious woman, who gives him shelter and instructs him to bathe with a body wash that transports him to an alternate dimension.
Sonically, Body Wash is a 16-track synth-funk album that bears a strong kinship with the work of singer/rapper Anderson .Paak. Both artists pull from '80s R&B, tweaking it slightly so it connects with modern-day listeners. Ancheta took his artist name from a lyric on Nas's 1996 song "Affirmative Action" ("My mind is seeing through ya design like blind fury…"), and grew up on a commune, the child of a Filipino revolutionary and Ivy League neuroscientist. That experience opened his eyes to a wide variety of both sonic and social perspectives, giving him the kind of nuanced viewpoint necessary to create music that's both familiar and esoteric.
Even when it's conjuring visions of an early '80s roller rink, Body Wash feels distinct. Songs like "Cosmic Perspective" and "Alluptoyou" have the kind of shark-skin suit/champagne soul upon which Death Row Records built a rap empire in the mid '90s, as well as the "Computer Blue"-era techno-soul that Andre 3000 mined to great benefit on 2003's The Love Below. Vocally, Archeta isn't as polished: On "Alluptoyou," in particular, his vocals are run through a heavy electronic filter, giving them an almost robotic quality.
"Ya Own Way," "Transmissionnn," and "Lather" are exuberant homages; all three tracks open with crystallized breaks, a la Zapp and Roger Troutman's 1986 classic "Computer Love." Simmering keytars and noodling synthesizers run up and down the scales, and the entire song builds to a euphoric end. But even if you're not aware of the album's nostalgic reference points, Body Wash is still fresh and exciting, built on a sensual, transformative sounds.
"Searchin'" is the album's true home-run; the song is billed as a three-act play ("4 That Familiar Feelin'," "4 Sumthin' New," "4 Nothin Else"), demonstrating the wide scope of Archeta's artistic vision. Closing out with toe-tapping melodic G-funk, these are ambitious tracks that ultimately hit the mark.
On Body Wash, Archeta drifts deep into the crates, returning with something resonant and ambitious. He aims for the stars, doing his best to transcend his art and personal existence, making a joyous LP. This is a moment for celebration—a cosmic dance jam.
—Marcus K. Dowling