ALBUM OF THE DAY
Album of the Day: Anteloper, "Kudu"
By Joe Bucciero · April 18, 2018
​
​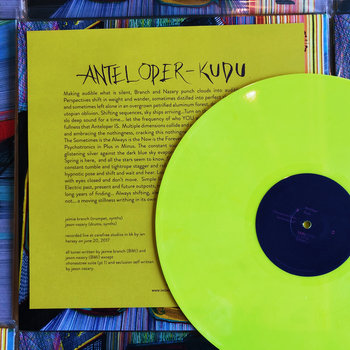 .
00:10 / 00:58
Merch for this release:
Vinyl LP, Cassette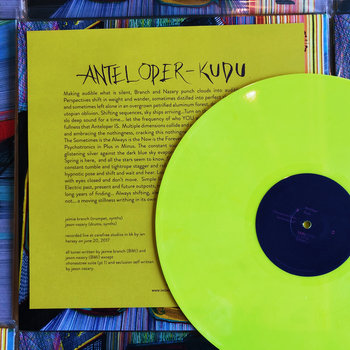 "It may be a stupid fucking world we're living in right now," says Brooklyn-based trumpeter Jaimie Branch in a Bandcamp article this past December, "but it still needs a soundtrack." Branch was discussing her 2017 breakout, Fly or Die, a heterogeneous jazz album released under her own name. Fittingly, Kudu, the first release by Anteloper, Branch's duo with drummer Jason Nazary (Bear in Heaven), is an apt soundtrack to our stupid fucking world as well. While Kudu and Fly or Die share some stylistic similarities, though, their respective "soundtracks" possess different tonal registers: the conversational acoustic interplay that marks Fly or Die is traded on Kudu for a spiraling mix of freely improvised trumpet, percussion, and electronics. That is, if Fly or Die's uplifting displays of musical communion provided a salve for the chaos of today, Kudu, across five sprawling and unpredictable tracks, seems to provide a mirror.
"The thing I'm constantly working on, musically or otherwise, is Patience with a capital 'P'," says Branch in that same interview. Kudu, in contrast, is loose, challenging, full of 12-tone trumpet runs, arrhythmic drum hits, mesmerizing funk grooves, and meandering webs of electronic noise. These aren't necessarily sounds equated with Patience; still, the album's nine-minute opener, "Oryx," is a lesson in musical equanimity. After 90 seconds of a glitchy electronic undercurrent, Branch and Nazary—whose synergistic relationship began in 2002 at the New England Conservatory—start to slowly map out a sonic territory that they'll carefully explore for the rest of the album, one where the duo's differentiated grooves can recall anything from the Hypnotic Brass Ensemble to the pulsing, melodic rock of '90s Thrill Jockey. The standout track, the 15-minute "Ohoneotree Suite," is crisscrossed with shifting patches of information, with Anteloper striking a distinctly contemporary balance between disorderly and patient, a balance that could help us understand this stupid fucking world and then begin to navigate through it.
-Joe Bucciero